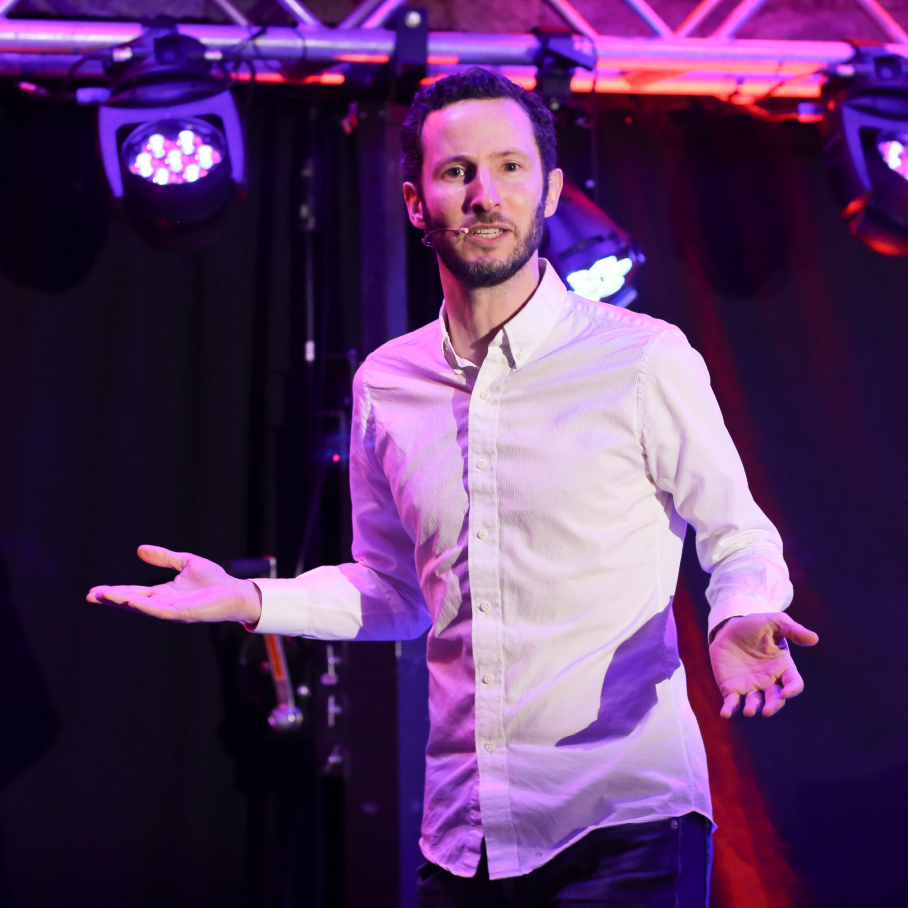 What Jason Brings to
You
1. Energy. Use Jason to kick things off or right after lunch. His high-energy, passionate delivery will jolt people awake!

2. Impact. Jason starts conversation — and your audience or team will be discussing his ideas long after the event.

3. Accessibility. Jason will stick around to talk with attendees, and is happy to discuss attending meals or sponsor meetings.
Jason's Message
Adaptability isn't something you're born with. It's something you can learn. And if your team, audience, or industry is trying to navigate change today, Jason Feifer can help them reframe it as opportunity.
Jason has learned how to do this from the smartest entrepreneurs in the world, and has developed actionable strategies to help anyone adapt faster and thrive in the new.
He argues that change happens in four phases. It starts with panic, when we have no idea what we'll gain or lose. Then we move into adaptation, begin to build a new normal, and finally start to see our Wouldn't Go Back moment — that time when we have something so new and valuable that we say, "I wouldn't want to go back to a time before I had this."
Jason's strategies can help people move through those phases faster, and he gives audiences tangible ways to approach them — along with entertaining, memorable, and often funny stories of entrepreneurs who navigated similar problems, as well as surprising lessons drawn from the history of innovation.
In addition to delivering keynotes or sitting for fireside chats, he is also a talented emcee and experienced celebrity interviewer who has profiled everyone from Dwayne "the Rock" Johnson to Michelle Pfeiffer. Get in touch to discuss how Jason can help you!
What People Are
Saying
Jason prompted a valuable discussion among my team, and we still bring his frameworks up months later."
Jason's level of enthusiasm was just what we needed for our meeting. Many people told me it was one of the best presentations they've ever heard."
Jason was a massive highlight for my team! His energy is contagious, and his message inspired us all to see change as opportunity."
Customized For
Any

Event

Jason is an engaging, versatile speaker who's excited to meet your organization's needs. Here's what he offers.
Keynote: Build For Tomorrow
Help your team through changing times. Jason provides actionable strategies.
Fireside Chat: Sell With Stories
For marketing and communications teams, Jason shares wisdom from a career in national media.
Event Emcee
Jason has hosted high-profile, all-day engagements. He'll keep the energy high from morning to close.
High-Profile Interview
Jason interviews A-List celebrities and top CEOs, and can conduct an engaging on-stage conversation.
Want to Book Jason For Speaking?
Get in touch! We can't wait to meet your needs.